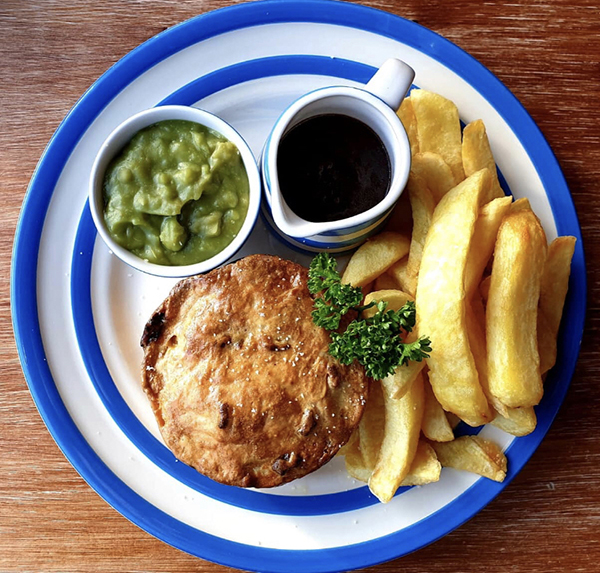 With today marking the start of British Pie Week (2nd-8th March), The Scallop Shell and The Oyster Shell's Garry Rosser shares his top pie tips – and they might surprise you, they don't involve making them!
1. If you're a restaurant and you have lots of chefs or you have a central kitchen then, yes, make your pies, but if you don't, use people who specialise in them. You'll have consistency, quality and you'll remove the labour costs. A takeaway is all about quality and consistency after all. For me, it's all about quality, so buy the best quality you can for your establishment.
2. Pies is a big, diverse market so mix it up to suit your market or region. I like steak and ale pie as it goes well with fish and chips, it's very traditional, but a madras curry pie could be really popular if you've got a large Asian community. Or try a vegan or gluten free pie, again there are some great versions out there to cater for these growing markets.  
3. Source as locally as possible without it affecting the quality. In reality, if there was a very good pie 500 miles away I would source that pie. 
4. When it comes to the filling, buy British as there are strict laws on British farming so you know the quality of the meat will be really good. You want to have nice big chunks of meat because small cuts when braised will break down. And make sure your pies are filled to the top, you shouldn't cut it open and find half of it is air.
5. You want a nice thick sauce so that the filling doesn't dry out and a really good sauce-to-meat ratio so that the contents stay in the pie when cut open.
6. Look for a pastry with a high fat content. The more fat in a pastry, the more luxurious it becomes and the crumblier and richer the taste of the tart becomes. It's the butter that makes it melt in the mouth. It will cost more, naturally.
7. I've got no problem with taking a quality product and freezing it. We freeze our pies straight away in optimum condition, bring out what we need for the day and we know we've got 10-12 day's shelf life on them. It means there's no wastage.
8. Cook pies to order if you can. We defrost ours, microwave them for two minutes to get that instant hit of heat inside and then cook them for 220°C for ten minutes. We cook fish and chips to order, so we'll pop a pie in one or two minutes before the fish goes in and by the time the fish is out, dusted, battered, fried, rested and boxed, the pie is just coming out. It works really well.
You can catch Garry at the KFE School of Frying Excellence on Tuesday 15th September where he will be joined by John Molnar of The Cod's Scallops as they demonstrate ways to expand your menu.
Click here to find out more or book a place.