We are no ordinary training academy. Our premises in Market Deeping have been built to the highest standards of design and hygiene. The School of Frying Excellence was developed with award winning fish and chip shop friers and an Environmental Health consultant.   Whether you're a new or existing frier, our courses are perfect for learning new skills and developing new techniques to advance your existing ones
Our fish and chip training courses include:
Potato sourcing and preparation
Fish sourcing and preparation
Batter options and preparation
Accompaniment preparation
Techniques and options for fish and chip shop fryers
Management of the frying medium
Packaging, sundries and sources
Marketing, customer care, advertising and sponsorship
See the school in action!
OUR TRAINERS
With a combined 100 years of frying, building and managing quality fish and chip shop businesses, our trade dedicated team of trainers: Nigel Hodgson, Mark Petrou and Gordon Hillan, are all Fish and Chip Shop of the Year winners.
Read more by clicking on each trainer's name.
'We touch on everything, so whether you are a new customer, you want to train up staff in your shop, or you're an experienced owner you will go away having learnt something.' Gordon Hillan
TESTIMONIALS
We're very pleased to be able to share some feedback from past students
'Informative, interesting and all within a relaxed and professional atmosphere. Great basics for anyone new to the trade but many tips that I think the most experience frier can benefit from.'
'I would just like to thank Nigel, Gordon & KFE for outstanding teaching. I feel that this course has been very helpful. 10/10!'
BROCHURE DOWNLOAD
Download a copy of our School of Frying Excellence brochure now and see below for forthcoming course dates.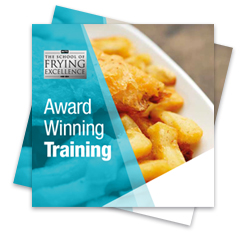 KFE TRAINING COURSES
Students who attend the KFE School of Frying Excellence are clearly dedicated to the fish and chip industry, whether they are newcomers to the trade or simply wish to surpass their knowledge and understanding of their existing business by commissioning the assistance of experts.
One day training courses at The KFE School of Frying Excellence or on site are available to book on a date to suit you.
Forthcoming two day Training Courses are available on: