Another year slips by and we are about to enter a new decade!!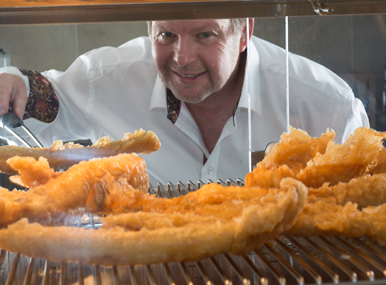 Paul Williams, Managing Director
2019 has been a tough one for the Fish and Chip industry, with high prices for both fish and potatoes, increasing staff costs and the ongoing Brexit saga. This industry is nothing if not resilient and we are starting to recognise the need to embrace the ever changing demands of the take away food sector. Click and collect is becoming a necessity and more and more operators are introducing a delivery service, either in-house or through the platforms of Just Eat, Deliveroo etc. It's exciting to see our current National champions and great friends, Tim and Kelly Barnes at Krispies, recently opening the first successful, unit for click and collect and delivery only.
Despite the negativity previously mentioned 2019 has seen KFE expand the sales department with Sarah joining the office and Vass and Simon adding to our team of area sales managers which has helped us sell a record number of ranges and position the company perfectly for 2020. With 65% of our business from our existing customer base, customer service has been and will always be the focal point of our business plan. We acknowledge that we are not perfect but that's never through lack of commitment and endeavour and we are investing further into technology to extend our position as the industry's premier after sales service.
I would like to take this opportunity to thank our loyal customers and industry suppliers with whom we have built many long term and truly valued relationships.