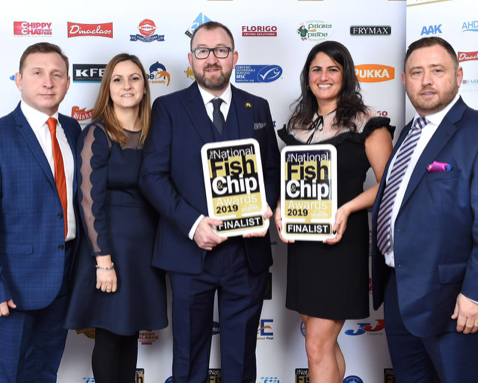 Tony Forgione, co-owner of Captain's Fish and Chips and Sidney & Sons in Hoddesdon, Luigi's in Harlow and Nazeing Traditional Fish and Chips in Essex, tells how Captain's Fish and Chips has benefited from winning a coveted National Fish and Chips Award this year.
He shares his passion for the business he and his two brothers, Luigi and Lib, were born into and their approach to running four successful shops.
'For me, running a good business is a lot like being the manager of a successful team. I say to my guys, 'know your position and what you need to do and let's do it!' I'm in the shop most days and keep my eyes on what's going on, sometimes I may need to raise my voice to push things along a little but in the main, everything works very smoothly and we're a pretty efficient team.

We first entered the National Fish and Chip Awards in 2018 and were really pleased to finish in the Top 10. It was a good result and a great reflection on the hard work our team does.

We'd held back on entering the awards until the time was right. We did a major shop refurb in 2017 and relaunched as Captain's Fish and Chips. I'm a firm believer in checking the detail and getting everything 100% right before you start showcasing what you do.

This year we've had an even better outcome, finishing in second place for 2019. It's a real honour. The Awards are so high profile and their endorsement is a great draw to new customers.'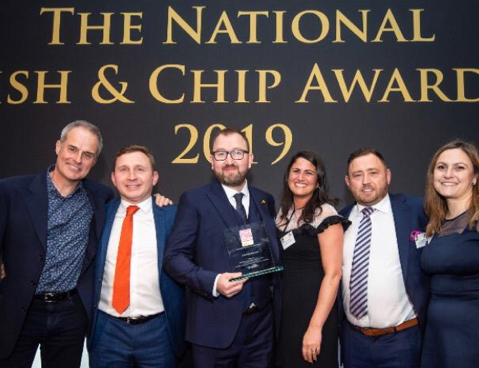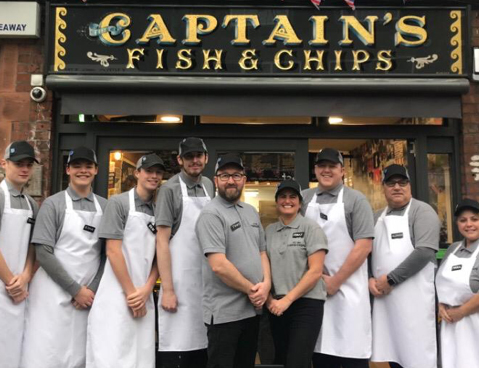 Captains Fish & Chips, Hoddesdon
'The challenge is converting those new customers into regulars though. One of my favourite tricks is to piggyback on national promotions like Black Friday, when we do a £5 special price on cod and chips, we do the same on National Fish and Chips Day. Pushing the promotions out on social media really gets people in and because we repeat our offers, people come to expect them. It's a good relationship builder. We get noticed too, the business owns 4 traditional black London cabs that we've 'wrapped' in fish and chip paper, we park them up around town and they've quickly become a talking point.'
'Overall, I think the refurb at Captain's and the National Fish and Chips Awards have helped us to uplift the business we do by as much as 30%, so both have been a worthwhile investment.'
'One of the most important things about building a strong business has to be keeping to a good standard and being consistent about it too – you're only as good as the last meal you serve! Make a mistake and most customers will give you a second chance, but only one.
I'm as passionate about the business as I was when I first started, straight from school. My family's been cooking fish and chips since 1963 and my brothers and I are the third generation to be involved.'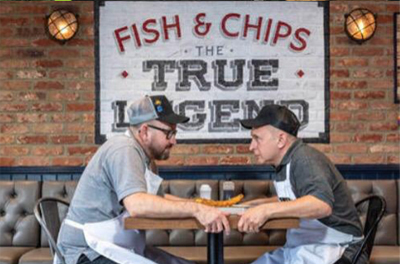 'Quite a few of our staff have been with us for years too. Jimmy at Captain's has been with us twenty-four years and Danny, who's also at Captain's, has been with us eighteen years now. It's great for us, customers like to see faces they recognise. Across four shops we employ around 60 people.
As for me, I love the contact with my customers. Couldn't imagine being anywhere other than in the shop on a Friday night!
We haven't entered for the 2020 Awards, we need time out to build on what we achieved last year, but for anyone reading this and thinking about entering the National and Chip Awards in the future, I'd say do it! Give yourself time to get prepared and make sure you're really happy with how you're doing, then go all out to win an Award. You won't look back.'