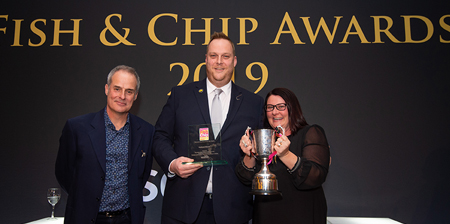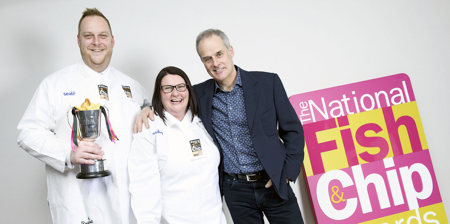 It's easy to understand how time flies and after winning the prestigious National Fish & Chip Award in January, winners Kelly and Tim Barnes from Krispies took the time to talk with us and share the impact it's had on their business, as well as sharing their thoughts on working with KFE.
Tim and Kelly explained that their lives have been crazy since they won the award.
"The shop has been busy with a definite increase in trade and it's so lovely to hear of people travelling from as far as Amsterdam for Fish and Chips!!

We've had a few factory visits as well as being invited to fry at a British Fair in Japan. We felt it was important to share this with our staff and give them the opportunity to travel and experience the joy of winning."
We then asked Kelly and Tim about any advice that they'd give to people that are entering the National Fish & Chip Awards next year. "Be ready, it's a tough competition but very rewarding. Enjoy entering and ensure your team are well supported."
There are also some incredible shops out there that aren't considering applying. "You've got to be in it to win it!! It's free marketing for your business and the reward for business is great."
Krispies was a hugely successful business before winning the award and since then, their business and their lives have taken to new heights but they will never forget their roots.
Kelly and Tim are very passionate about the environment and contributing to their local area. They do their bit to look after the shoreline in their home of Exmouth by proudly sponsoring regular Exe Estuary Management Partnership Clean Ups of the beach areas. They're also minimising the impact their business has on waste levels with things like recyclable packaging and recycled oil that's turned into renewable energy.
As such a strong team, with great food and a commendable work ethic – Krispies are a brand we're thrilled to call friends and part of the KFE family. Kelly and Tim went on to share their experiences of working with us.
"We've worked with the Williams Family for the last 15 years. I would recommend KFE to anyone who wants a new frying range, the build quality of the range is second to none and the service has always been outstanding. For the customers the power behind the fryers had helped us to create an amazing product and keep up with the consistency that we always strive to achieve."
Thank you for your time Kelly and Tim. We wish you continued success for the future and we've loved being part of your journey.