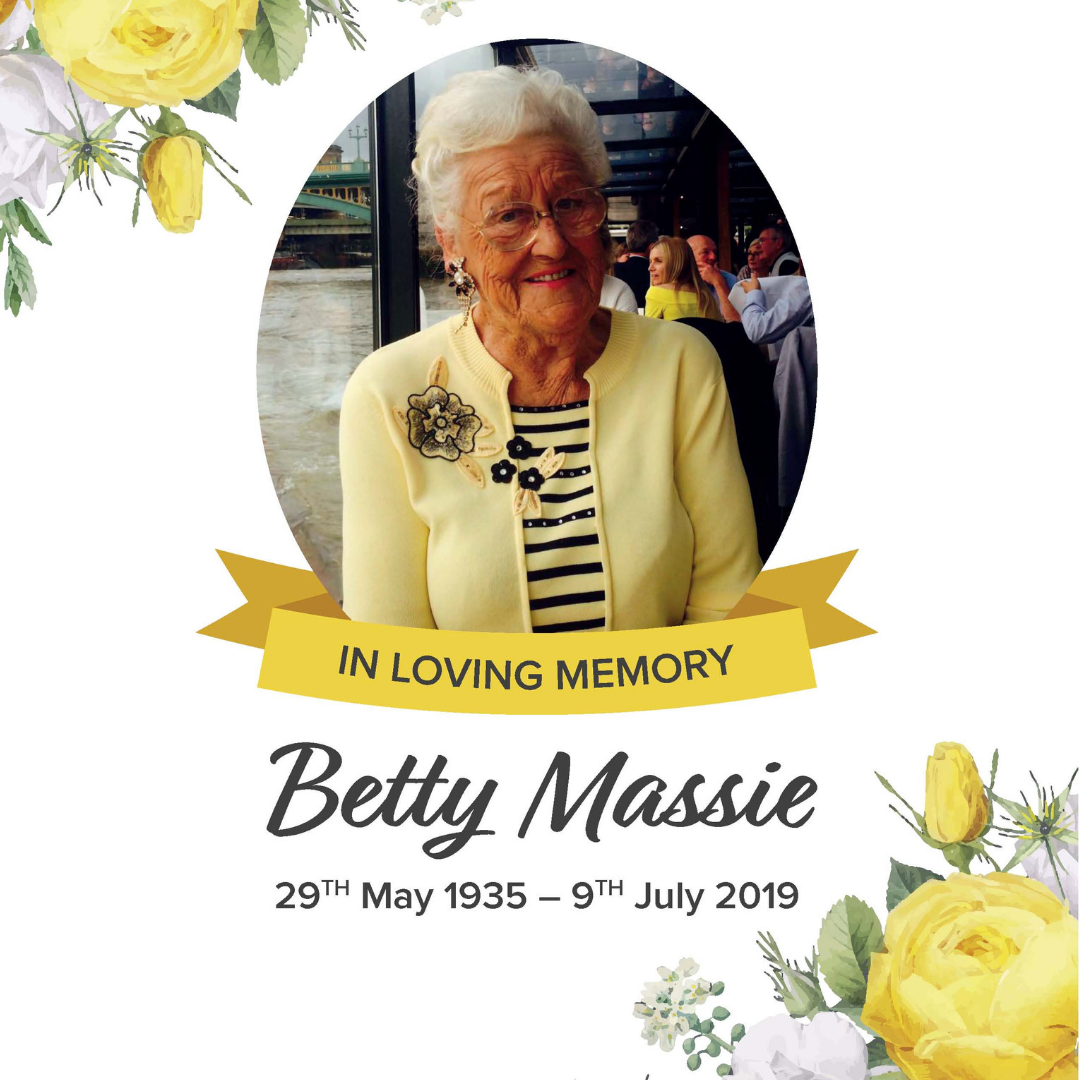 Today we say a sad farewell to the wonderful Betty Massie – our rock and our inspiration.
Betty Was born in Aberdeen, Scotland on the 29th May 1935, the family were farmers but Betty always aspired to another life outside of the farm. At the age of 19 she met the very handsome John Massie one Sunday evening while walking "the Matt" in Union Street Aberdeen; which apparently is todays version of Love Island! It was a whirlwind romance and they married the following year;  Jake and Aviy were born very soon afterwards.
Times were tough in Scotland with very little work. John saw an advertisement in the local paper for jobs in the new steel town of Corby.  They offered your train fare, a council house and a job, happy days, so the whole family moved to Corby. Betty had 3 jobs, she would start with a milk round in the morning, then off to the steel works canteen for lunchtime followed by an evening shift as a barmaid. As well as that they lived in a 3-bedroom house and rented one bedroom out to lodgers who shared the room as they worked 24 hour shift patterns. Every morning she would make each of their pack ups and do all their daily washing;  she was a grafter.
They always aspired for better days and purchased a hot dog van, while still retaining most of their other jobs. This proved to be very profitable, so they bought a second van.
They would visit the factories at lunchtime, pubs at kicking out time and highland gatherings. Recognising the opportunities in the food business they decided to sell the vans and invested all the money in opening their first fish and chip shop on the Exeter Estate in Corby
At one-point they owned and ran 17 fish and chip shops and for many years would work 12 hours a day 7 days a week.
They moved to Market Deeping in 1990 and together with Paul and Aviy became part of The Boundary Fish bar, a family business they operated for 10 years.
Betty and John were the reason Jake, Aviy and Paul followed into the Fish and Chip industry, with Grandchildren Nikki and Tanya and her husband Matt later joining them at KFE – for that we can't thank them enough.