Business is better than ever for Fish King in North Hykeham, Lincoln, after closing its restaurant and repurposing the space to serve click and collect and walk-in orders from a new five pan Kiremko island range 
In the 25 years that Fish King has been in business, it has never undergone such a dramatic change as this summer when owner Chris Frangeskou closed the 30 seater restaurant, spun the whole shop around and put in a larger frying range. The idea was to meet the growing demand for click and collect, a result of the coronavirus pandemic.
"Back in March, we initially closed for five weeks," explains Chris. "We were one of the only fish and chip shops that reopened around here so the queues were astronomical. We put in click and collect and we were smashing it. I was doing 200-230 click and collect orders a day. Not only that, but we were doing what we would do over ten hours in four hours."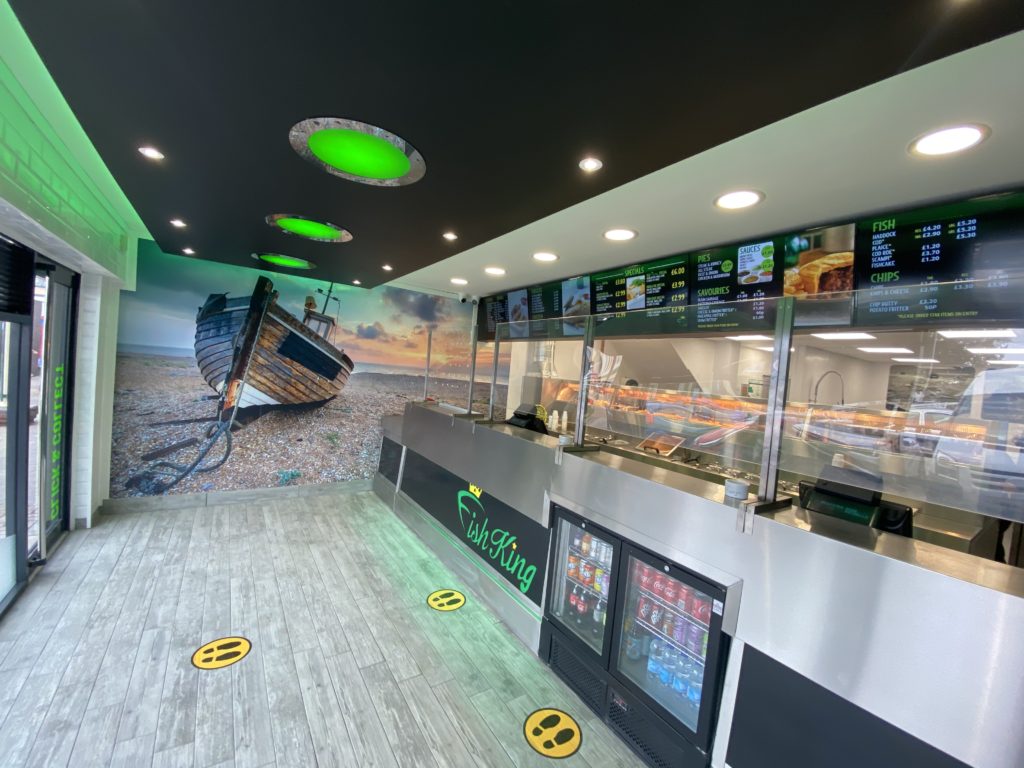 With Fish King already heavily weighted 80/20 towards takeaway, it wasn't a difficult decision to go full click and collect.
"There weren't enough bums on seats to make eating in worth it," Chris explains. "We were down to about 20 seats and at £5 a head, which is what we charge for small fish, chips and peas, even when full we're talking £100 an hour. With click and collect we can do £100 in ten minutes. Once, we did a count up and we had taken about £900 on click and collect in an hour."
With the decision made to pivot the business, Chris shut the shop for two weeks in August while it was refurbished from top to bottom and a new layout introduced.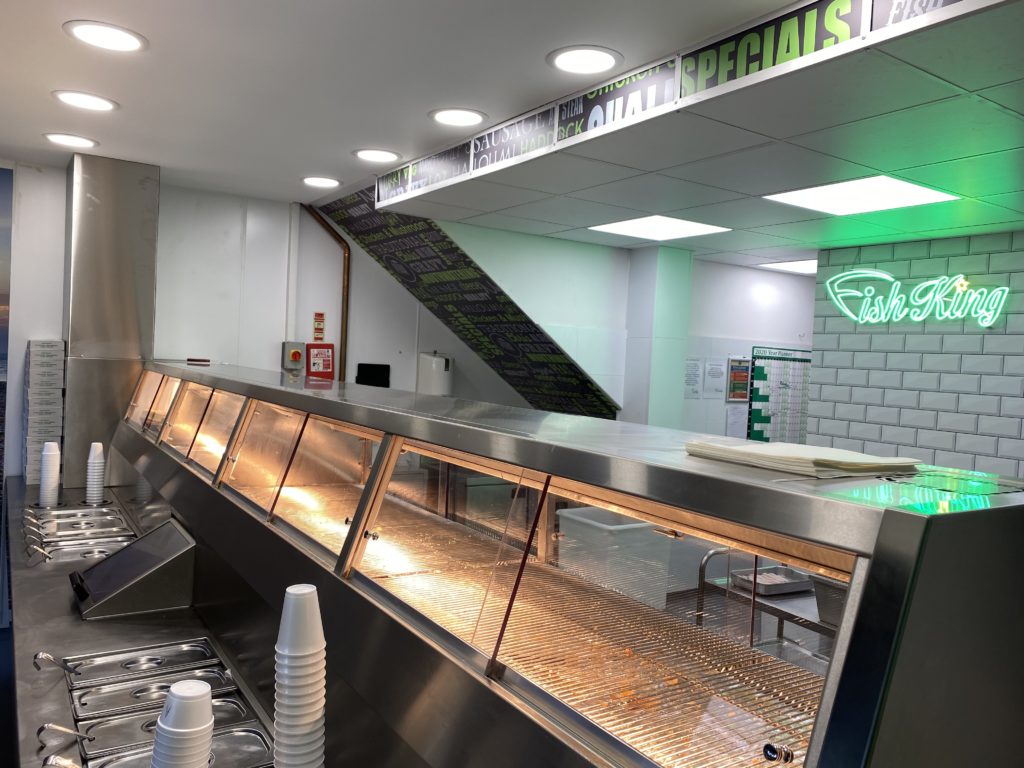 While the shopfront incorporates two separate doors, one for walk-ins and one for click and collect, the space once taken up by the restaurant has made way for an open planned kitchen and the new Kiremko frying range. This has been placed horizontally across the front of the shop to directly face customers as they come in.
"I sat down with Nik at KFE and he designed a range that was big enough for what we wanted," says Chris. "We were too busy for the old range so on a Friday we lacked that extra boost."
Agreeing on an island range with three high efficiency chip pans and two fish pans, Chris noticed the difference immediately. "The pans are astronomically powerful," he comments.
"When we're busy, I tell the staff to brim the basket – which means ram it full – and to give the chips longer if they need to, but they never do, the pans have got so much power. They are definitely the fastest I've ever used."
Chris is one of the growing numbers of customers choosing KFE's new touchscreen controls. Chris comments: "They are so easy to use. I know exactly where I am with them. And they control the filtration too so it won't let you filter until the pan has cooled down, which is brilliant because I'm not filtering when it's too hot or too cold. It's the best filtration system I've ever used, it saves me about an hour and you can notice a massive difference once you've filtered."
Changing the position of the range has improved the working environment, allowing for an extra 15-20ft of space behind it. "We've got the room to do what we need to do, we aren't under each other's feet," says Chris. "You can move quicker, cook quicker, keep the shop cleaner, it's a massive change for the good."
Any changes made to a business are a big gamble, but with turnover now up by an estimated 30%, Chris is confident he's made the right decision. And he's been grateful for the support he's had from KFE, adding. "KFE have been there every step of the way and even now they'll message and ask how it's going. I've not had a single problem but if I did, I'm 100% confident they would sort it out."
Click here to read how The Bay Fish & Chips adapted its businesses earlier this year when it also installed a new Kiremko frying range complete with our touchscreen controls.