If you're looking for some menu inspiration this Christmas, KFE customer and owner of Eric's Fish & Chips in Norfolk Eric Snaith says his deep fried stuffing balls with a cranberry ketchup are always a winner

Each year, to mark the festive period, the team at Eric's looks to put a twist on a classic using Christmas flavours.
"People go for little additions that are only a couple of quid this time of year just for fun. They add to the festive feel and create a talking point too, something you can market on social media," Eric comments.
One recipe that he thinks will work for most takeaways is deep fried stuffing balls with cranberry ketchup. "They aren't a big expense, they work well for margins and look good as an add-on," says Eric.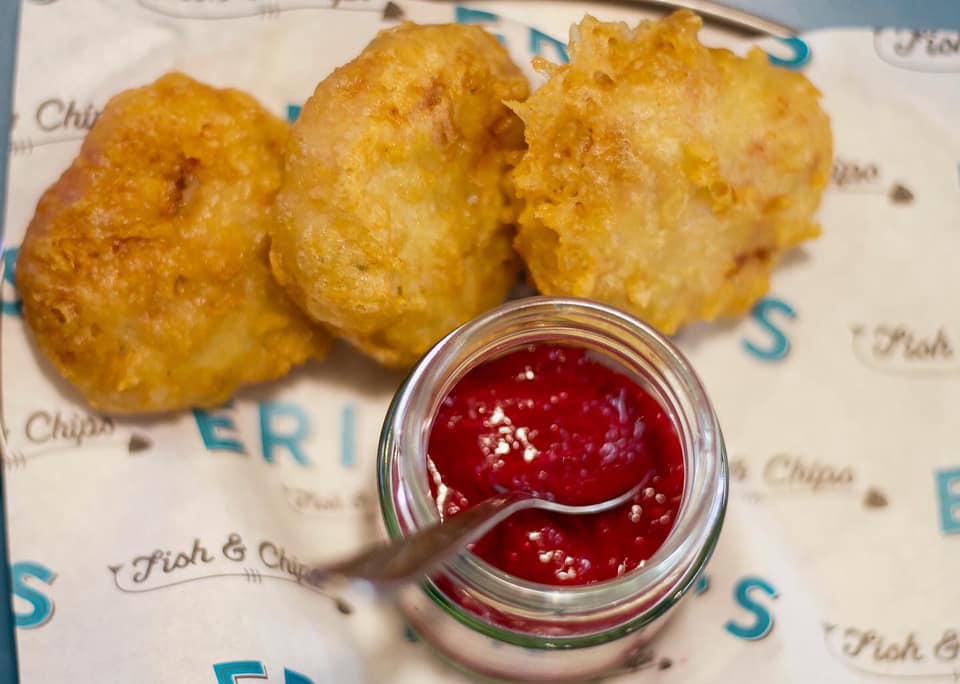 They're also quick and simple to make, he says, requiring a good quality sausage meat and some stuffing mix. "I'd always recommend making your own stuffing mix. It's not hard and it makes a big difference to using the packet stuffing. I always add some fresh herbs and chopped apricots to mine to give them a flavour profile people aren't expecting."
Simply ball up the mixture, freeze them down and you can move onto the cranberry ketchup.
"We use frozen, whole cranberries, sugar and vinegar, and cook that all down into a smooth puree," Eric explains. "It's like a Christmas cranberry sauce but it's also like a ketchup, which is in keeping with the fish and chip shop feel."
Eric puts two balls to a portion and sells them for around £2.50-£3.00, but chip shops can play around with portions and sizes and decide a selling point that suits them.
When it comes to making the stuffing balls, Eric recommends doing a big batch early on in December, adding "It's not something you want to be making twice a week, so we tend to do one big job, ball them up, freeze them and bring a few out at a time."
Eric's top tips are to keep the stuffing balls small so they are quick to cook and to weigh each one as they are balled up.
"Spend time testing them; getting the seasoning right, the weight right as well as the cooking times and temperatures and then when you've got it how you want it, make sure whoever is balling them up weighs each one they make," he explains. "I know it sounds obvious but if you do them by eye, very quickly they can vary in size and then you risk over or under-cooking them."
And, one final piece of advice – make sure they are a different shape to the other products you are frying, with Eric adding: "Once things are battered they can all look quite similar!"
You can read more about Eric Snaith and his journey into fish and chips in our interview with him here.