One of the key factors in running a successful fish and chip shop – as many are finding out in the current situation – is the ability to adapt, whether that be to emerging trends, new technology or situations completely beyond our control. 
It's for this reason that Calum Richardson, owner of The Bay Fish & Chips in Stonehaven, Aberdeen, updated his seven-year-old frying range earlier this year, putting in his third Kiremko since opening the takeaway 14 years ago. 
The shop, which looks out onto Stonehaven beach, has seen a minimum 10% increase in business year-on-year and now serves a staggering 300,000 customers annually. Although Calum continually upgrades different aspects of the business, this year he decided it was time for a full refit and a brand new frying range to embrace two growing trends – click and collect and gluten free.
Calum Richardson, comments: "I believed when I first started in the industry that frying ranges would last 10 to 20 years, which I think they can, especially if you look after them.
"But the problem you get is the quality changes, the features improve, they become more efficient and also your business changes. For me, my business has changed dramatically in the 14 years I've been here. The shop has got busier, but it's silly things too like when I first opened I wanted to put a gas burner on the range but I didn't have the money so I bought a cheap £100 cooker. 
"When I went to change the range a second time, I could afford to add one in so I did as it brought everything into one line. This time, I wanted to put in a gluten free section to cater for coeliacs, take out the griddle and put in an induction hob, and try out the electric pans as well. So for me, it was about adapting. Plus I wanted to do click and collect from our window at the front so a new range meant I could change things to fit that position."
By removing the griddle from the range and incorporating a slimmer induction hob, which is used for mushy peas, curry sauce and pan-frying fish, the new frying range allows for three high efficiency two basket fryers for chips and two one-meter fish pans. 
"I've bought myself more capacity," comments Calum, "and that's really important because I'll make more money selling fish and chips than I will off the griddle."
At the far end of the range, separated by a stainless steel divide, is the new electric pan which is dedicated to gluten free and which features standalone filtration to avoid any cross-contamination. 
"Gluten free has been going really well, the customers have really been enjoying it," remarks Calum. "For me, it was a way I could dip my toe into whether my next range will be electric. What I like about the electric pan is you can put it up in the morning to 180°C, drop it to 150°C and let it sit there and it will come back to 180°C in about one minute so customers place the order and by the time they are at the till the order is ready."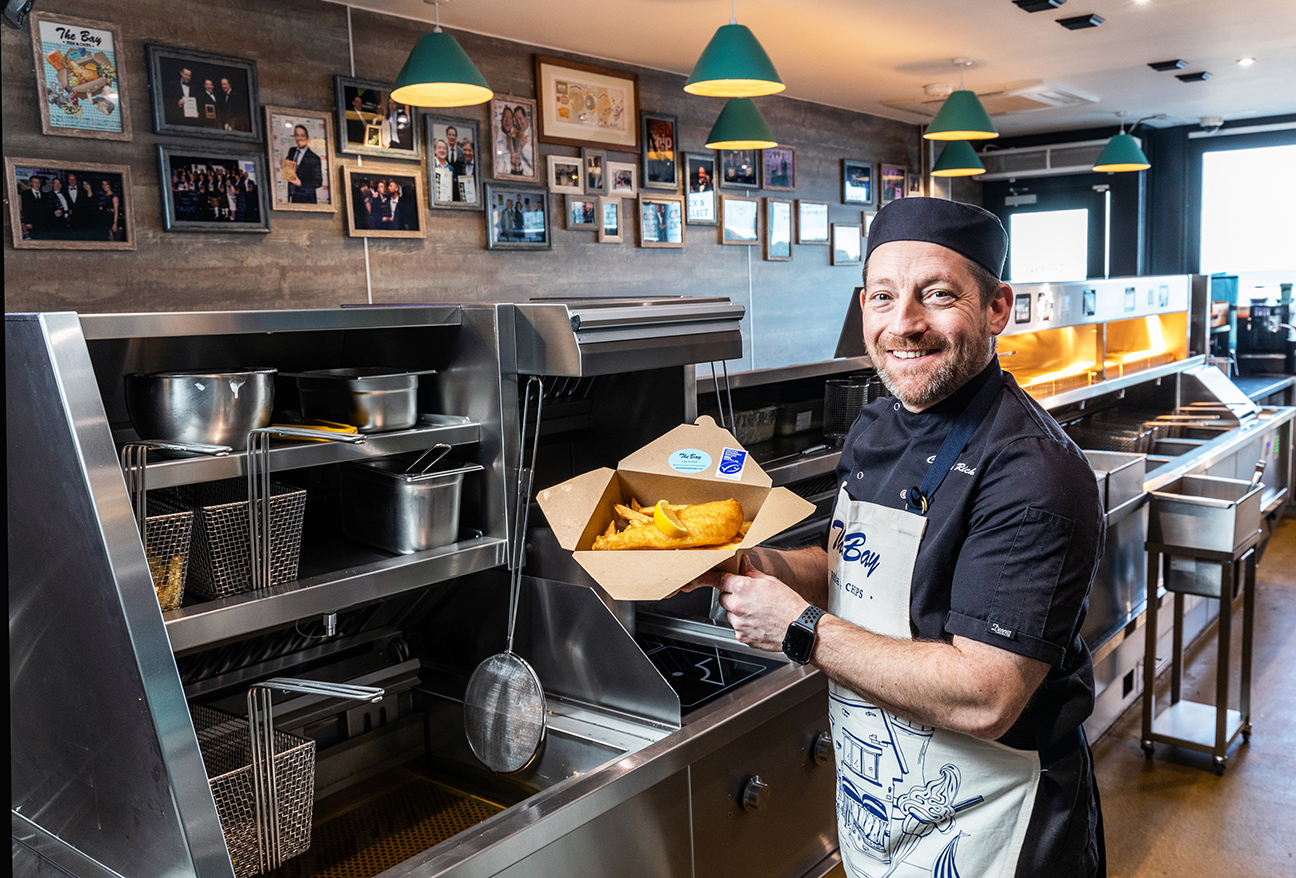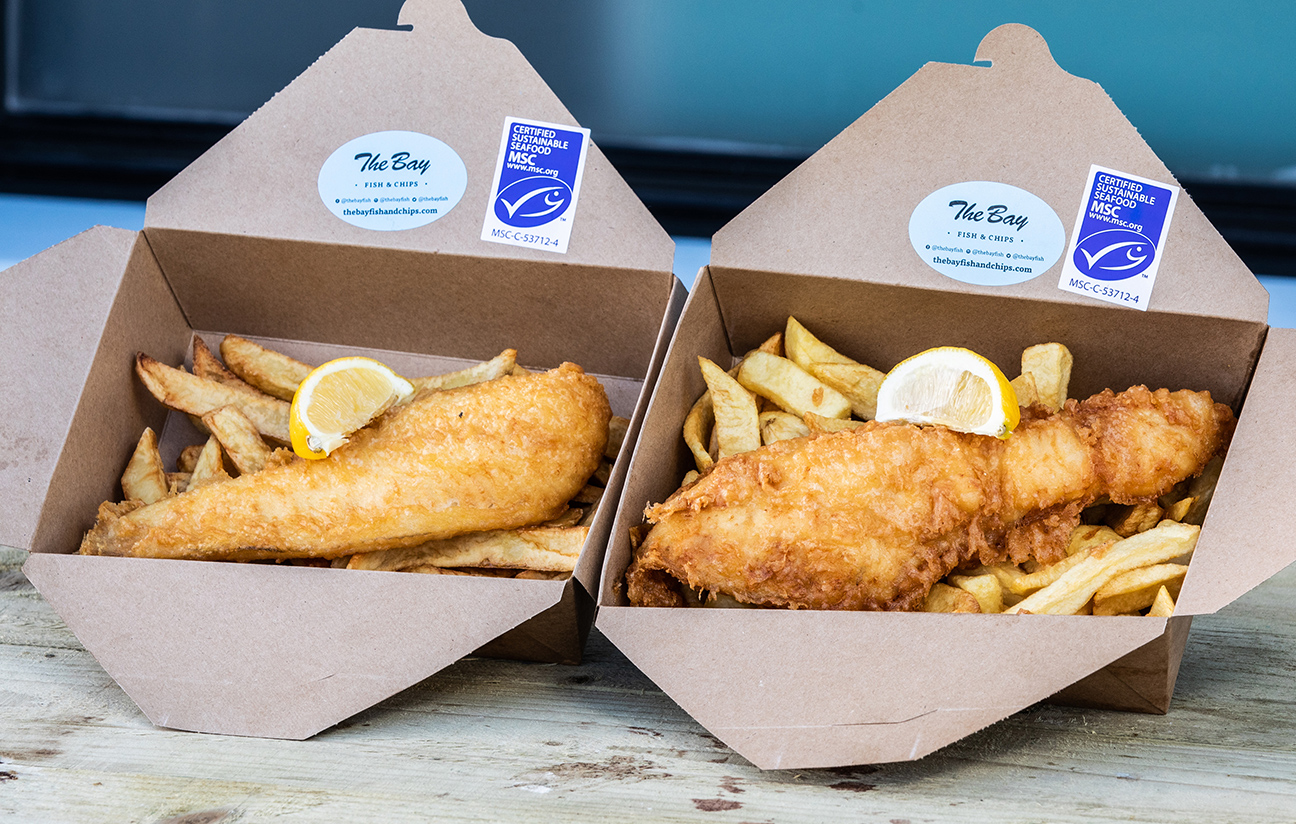 Benefiting from KFE's latest innovation – state-of-the-art touchscreen controls – is another plus side of changing the range.
Calum comments: "The new touchscreen controllers are fantastic. Visually they are good because everything's a lot clearer to see but they are also more modern. You say to a teenager "put some chips on" and it's all touchscreen. It's what they are used to, they click through the same way as if working a phone.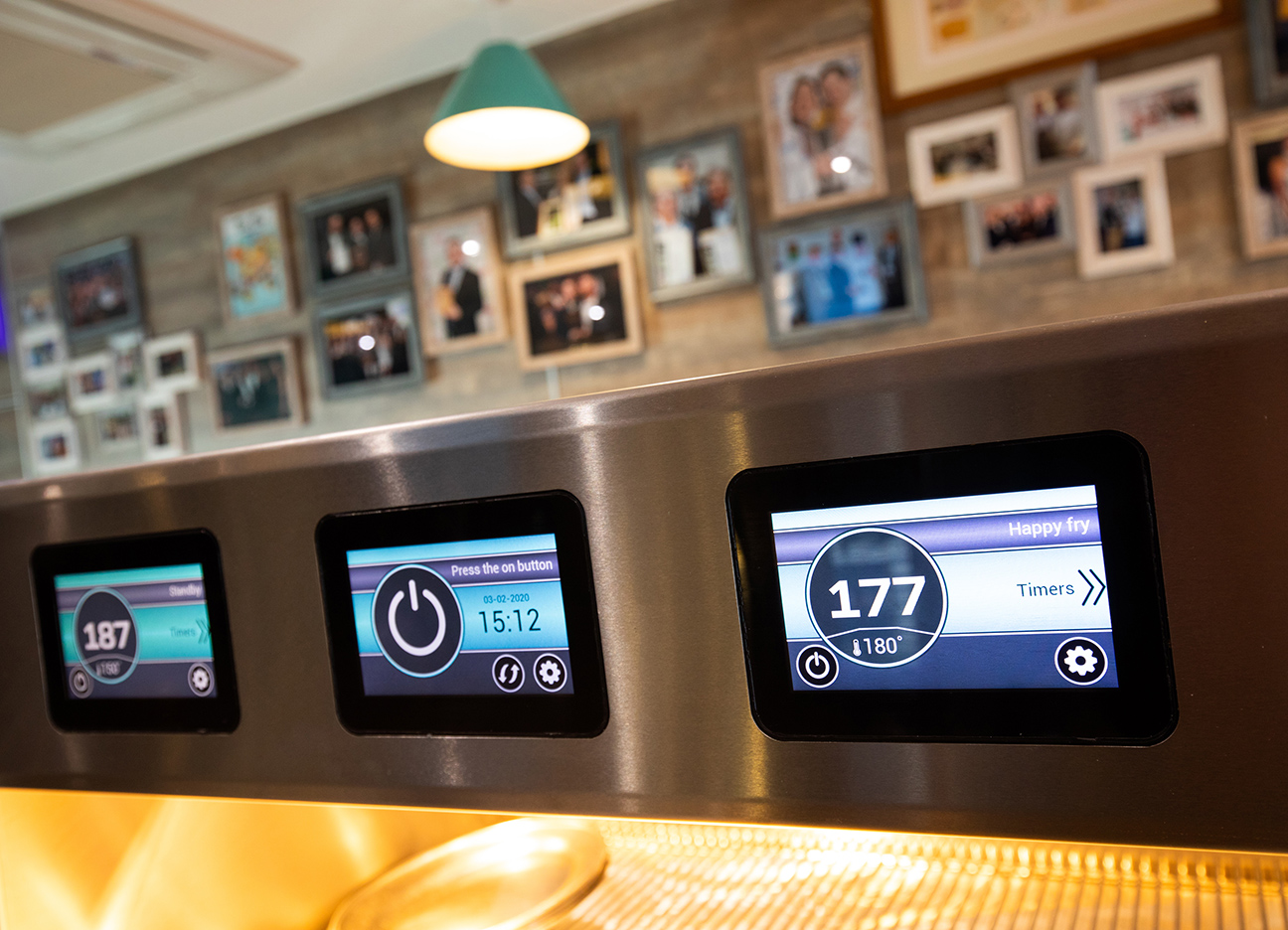 "Everything is self-explanatory too so, for example, the chips go in, you press the button, one minute will pass and it tells you you need to shake the chips. You can't go wrong.
"Another feature I really like is when you go to filter the oil because it's all done through the touchscreen. There are no valves or buttons to press. And if your oil is too hot it physically won't let you drain it until the pan's cooled down enough. That's great as it will eliminate people splitting pans because they filter the oil while the pan is too hot."
With the new range being The Bay's third Kiremko and Calum's fifth overall, there's a reason why he keeps choosing KFE – the service he receives and the confidence this gives him.
"The service has been really good," he says. "It's one of the reasons I'm with KFE. I know they don't let me down. You pick the phone up and there's always someone there, which I need. I can't afford to be shut. 

"I always feel I'm in safe hands because it's a family business. Not only have you got Paul Williams but you've got Tanya, Nik and Matthew there, and they all love the industry. What KFE does behind the scenes for the industry for no financial benefit is phenomenal. It gives you confidence when you're buying."