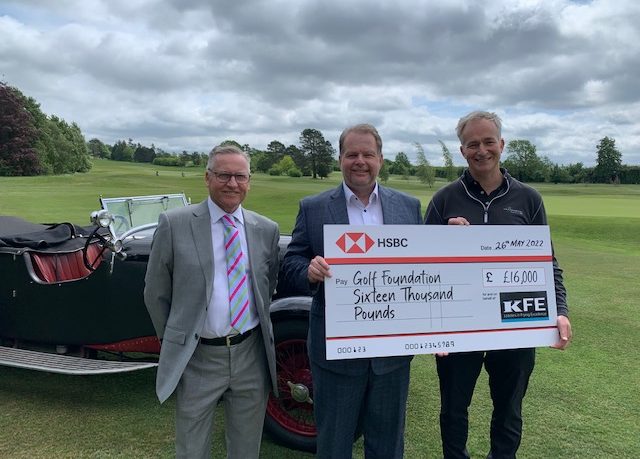 We have donated £16,000 to children's charity Golf Foundation after hosting a qualifier for the prestigious Duke of Edinburgh Cup World Finals during our Annual Ball and Golf Tournament held at The Belfry last month.
The Duke of Edinburgh Cup, founded by the late HRH Prince Philip, raises funds for charities that support children and young people in need or to assist in improving their lives.
We chose Golf Foundation as our nominated charity as we both share a passion for golf and for nurturing young talent.
Golf Foundation works with schools, faith groups and local communities to make golf more accessible to children from all backgrounds and to improve their mental and physical wellbeing by introducing them to the life skills the sport imparts.
To date, the charity has introduced 2 million young people to the sport, generated 50,000 regular golfers and increased the diversity of regular golfers. In addition, its specialist mental wellbeing programmes have helped millions of young people learn to cope better with stress and challenging situations.
Presenting the cheque to Brendon Pyle, Chief Executive of Golf Foundation, in the presence of John Casserley from The Duke of Edinburgh Cup, KFE Managing Director Paul Williams said: "We have run our Annual Ball for staff, customers and industry suppliers for the past 20 years and were delighted that this year our golf tournament was selected as a qualifying event for the Duke of Edinburgh Cup World Finals.
"Golf Foundation was recommended to us as the recipient of our donation and having read up on the Foundation, especially their work with autistic and down syndrome children and its mental well-being programme, we wholeheartedly agreed.
"We hope to attend events where possible and look forward to developing a longstanding relationship with Golf Foundation."
The two players who qualified for The Duke of Edinburgh Cup World Finals at this year's KFE Golf Tournament are Mike Hulme of The Golden Fry in Benllech, Anglesey, and Lenny Carr-Roberts of Shoal in Winchester, Hampshire.
They will compete in the two-day tournament in September, which is held at two top courses around London and concludes with a round on The Royal Household Golf Club in the grounds of Windsor Castle. The event culminates in a prize-giving dinner at Windsor Castle in the presence of a senior member of the Royal Family.
Photo (L-R): John Casserley, The Duke of Edinburgh Cup, Paul Williams, Managing Director, KFE, and Brendon Pyle, Chief Executive, Golf Foundation.