The weather was once again on our side for this year's KFE Annual Ball and Golf Tournament, giving a glorious start to our celebrations
Held on Sunday 15th May at the Belfry Hotel & Resort in Sutton Coldfield, North Warwickshire, we had 32 golfers from the fish and chip industry tee off on the Brabazon Course, which hosted the British Masters the week before.
All vying for the KFE trophy, players were also competing for a place in the Duke of Edinburgh Cup World Finals to be held in Windsor later in the year. Including a round on The Royal Household Course at Windsor Castle, this high profile event culminates in an award ceremony at Windsor Castle in the presence of a senior member of the Royal Family.
Fortunately our MD Paul Williams was spared the embarrassment of coming last in his own tournament when he was pipped at the post at the last minute! And how Chris Hendren managed to get nearest the pin in 2 on the iconic 10th hole, we have no idea having played shockingly over most of the course!
While the semi-professionals battled it out on the main course, we had over 50 players join us on the Ryder Legends course, miniature versions of some of the most iconic holes in Ryder Cup history. We had a lot of laughs, several lost balls and, surprisingly, even the odd hole in one!
The winners and losers were:
KFE Golf Tournament:
KFE 2022 Winner & Duke of Edinburgh World Cup Qualifier – Mike Hulme of The Golden Fry in Angelsey with 34 points
KFE 2022 Runner Up & Duke of Edinburgh World Qualifier – Lenny Carr-Roberts of Shoal in Winchester with 32 points
Nearest the Pin in 2 Winner – Chris Hendren of The Fryery in Carlisle
Longest Drive Winner – Reece Head of Fry Magazine
Nearest the Pin Winner – Graham Whiteley of Eric's in Titchwell
Winner of Whoosh b******* Trophy – Michael Dickman of BD Signs and Digital with 12 points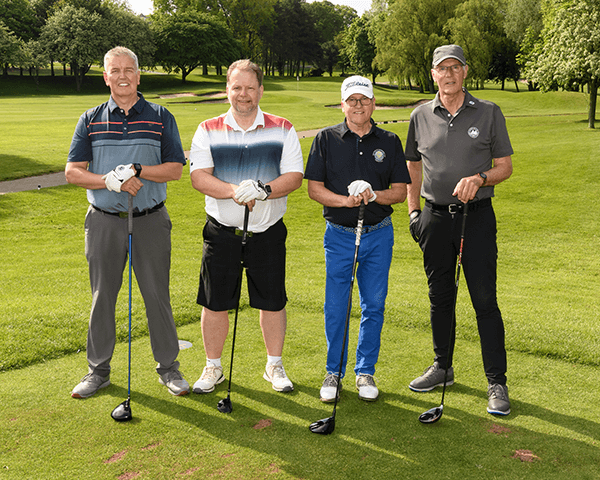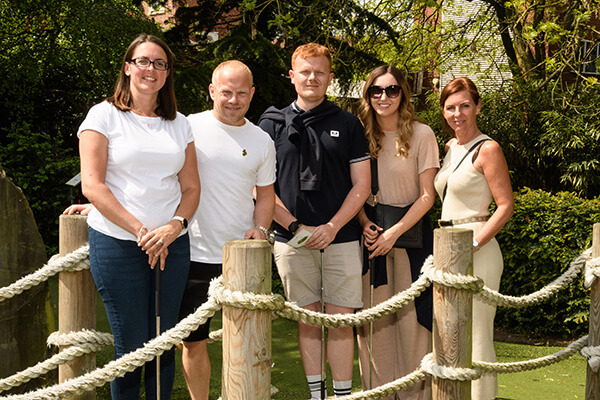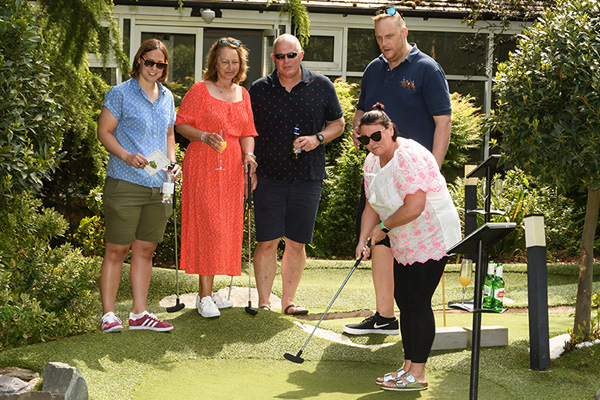 Mini Golf:
Mini Golf Winner – Callum Henderson, grandson of KFE Managing Director Paul Williams, with 34 points.
Wooden Spoon – Kelly Barnes of Krispies in Exmouth with 62 points.
KFE Annual Ball
After the presentation of the trophies, it was time for the main celebrations to begin as our KFE Annual Ball kicked off in style with our very own Ali G keeping it real alongside an elegant champagne glass performer and a soothing saxophonist. This was followed by an amazing set by Roy G Hemmings, formerly of the original Drifters.
We had an impressive 190 guests come together to party the night away, including Andrew Crook and Colin Cromar from the NFFF and over 25 shop owners from across the UK, including Deep Blues Restaurants, The Chesterford Group, Bizzie Lizzie's and Harlees.
It was a fantastic night – many have described it as the best ball to date – and a great opportunity to get together with friends and colleagues, old and new, to celebrate the wonderful industry we work in.
We would like to extend a special thank you to our sponsors without who we could not host such a fantastic event: Chippy Chat & Fast Food Magazine, Drywite, Elite Shopfitters, Leicester Machine Movers, Friars Pride, Kerry, Middleton Foods, QBTEC and Tower Leasing.
"Thank you for a great weekend, once again enjoyed your company and the golf. Thank you for your hospitality, the evening and entertainment were second to none." Ged Hulme, The Golden Fry, Anglesey
"Thank you for a wonderful weekend. As always it was a fantastic celebration of our industry coming together and celebrating not only fish and chips but, right now after the last few years, life!" Kelly Barnes, Krispies, Exmouth
"Thank you for a great weekend, once again you did an amazing job, one of the best yet and we cannot wait until the next KFE get together." Bob England, KFE
"Thank you for a fantastic weekend, it was a real privilege to be invited to your annual ball. We both had fabulous time and it was great to spend time with so many new people." John Casserley, The Duke of Edinburgh Cup
"I just wanted to say thank you so very much for another amazing evening. Once again the room looked amazing, and the band was fantastic. I think it was my favourite so far!" Mark Kemp, Tower Leasing
"Thank you so much for including us in your wonderful event at the Belfry, we had such an amazing time. Well organised and enjoyed by all!" Pana Epos Team
"I just wanted to say thank you once again for such a fantastic evening last night. We know how much effort these events take and it was perfect from start to finish, it must have taken a lot of planning and organising. Thank you again to you and your family, we had a great time!" Zoe Fusco, Whitby Fish Company
"Thanks to all of you for a great night. Always one of the best events of the year." Barry Dickman, BD Signs & Digital