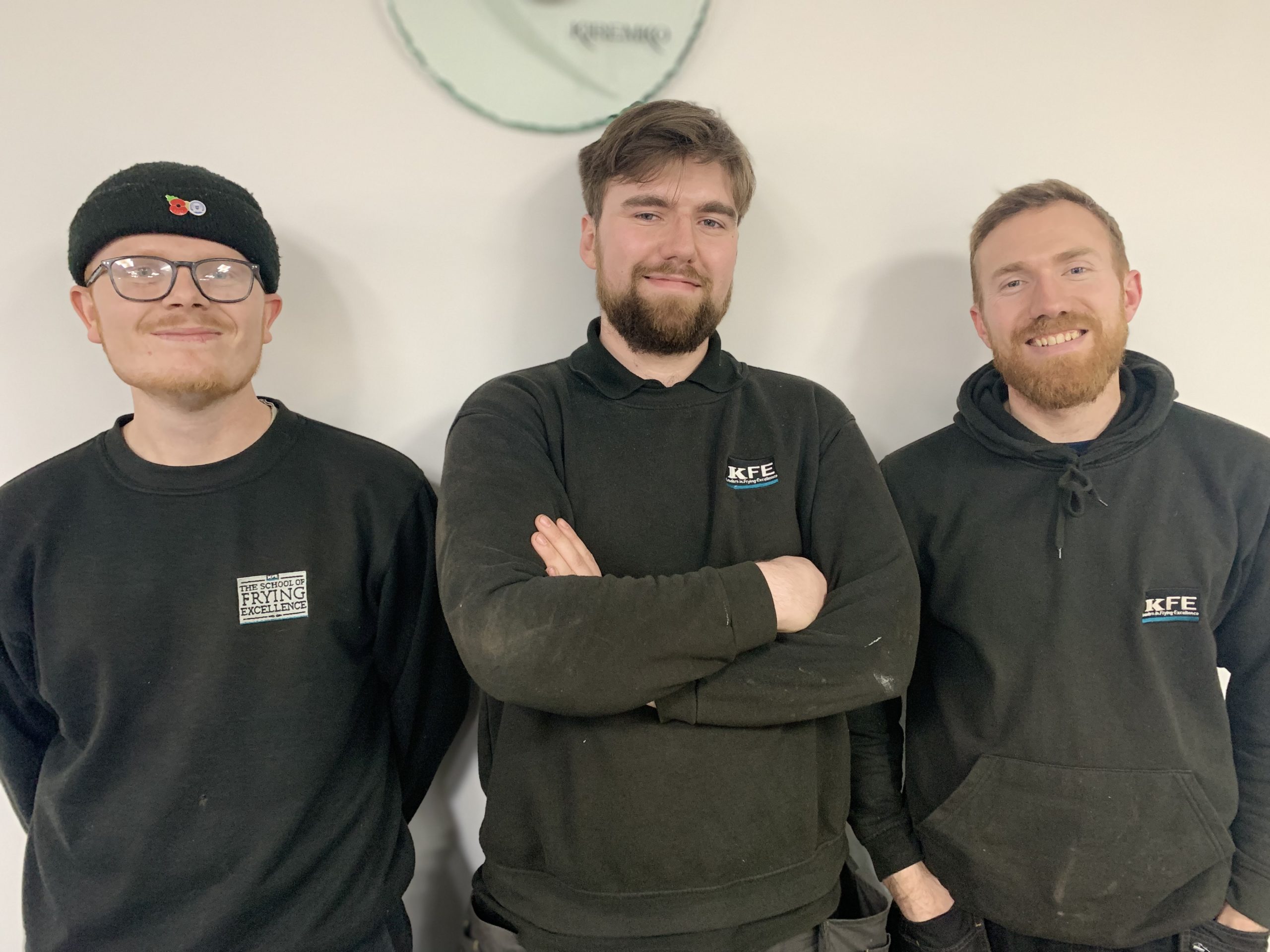 We've taken on our first four apprentices, marking an important step towards investing in the future of the business while providing job opportunities for young people. 
25-year-old Tom Knibbs and 32-year old Oliver Pedder are undergoing a Commercial Catering Equipment Technician Level 3 Apprenticeship while 25-year-old Albie Beeken joined as a qualified fabricator and is currently training with KFE fabricators. In addition, 21-year-old Jamie McLaren is partway through a Gas Engineering apprenticeship.
Excited about recruiting a new generation of engineers and strengthening the current service team, Stuart Blessett, head of service at KFE, comments: "We're really excited to be offering this opportunity for the first time.
"We've got a great service team with engineers that have been with us for many years but we're getting busier as a company, with new installations in new areas as well as existing customers ordering second and third ranges.
"We need to look at the business in three to four years time and make sure we're equipped to continue to offer the high level of service and UK-wide coverage that our reputation has been built on.
"One way we identified to do this was to invest in the younger generation, to give them an opportunity to work and learn so that together we have the right skills to meet the needs of tomorrow's fish and chip industry."
The apprenticeship is run in partnership with ECTA, the leading provider of gas, plumbing, electric and multi-skilled trade courses in the UK. It involves eight-week blocks, one at college and seven working within the KFE service department where they learn valuable, practical skills relevant to the industry.
Describing the apprentices as the KFE engineers of tomorrow, Stuart adds: "By investing in apprentices we are able to recruit talented and ambitious young people.
"With our partners QBTEC in Holland continually developing frying range technology, our equipment is becoming more complex with digital displays and controllers requiring more programming and more software, but these youngsters get that, it's second nature to them. We're excited to be offering them a path to long-term employment and secure up the future of KFE at the same time."
The four new additions are having a positive impact on the existing service team too, with Stuart adding: "It's great for the existing engineers, they can see us getting busier, they can see us investing in the team and they benefit from their enthusiasm too."
The service department was added to the KFE business in 2007 to provide customers with support after purchasing their frying range. Through continued investment, it now boasts 12 fully qualified range engineers covering the whole of the UK, a service that remains unmatched by any other UK range manufacturer.