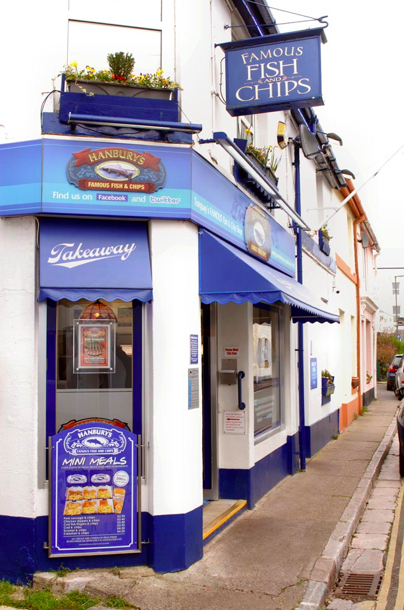 Hanbury's Famous Fish & Chips in Babbacombe, Torquay, has celebrated its 40th anniversary by hosting a charity day and raising over £5,000 for a local children's hospice.
The takeaway sold fish, chips, mushy peas or curry sauce for just £5 – less than half the usual price – on 11th January, 40 years to the day that owner David Hanbury bought the Princes Street business with wife Maureen.
Over 950 portions of fish and chips were served during the 6.5-hour shift with every penny donated to charity.
David comments: "It was a cold, pretty dismal day but the customers came in their droves and we've been able to send a cheque off for £5,000 to Children's Hospice Southwest. We're absolutely delighted. When I spoke to the charity initially I thought we'd raise a couple of thousand pounds, I never imagined £5,000. It was so astonishing when we added up the numbers.
"It's not really the time of year to be giving anything away but I spoke to the family about it and we all said we had to mark 40 years, and helping a local charity seemed like the best way to mark it.
"I was so proud of the staff, they worked really hard and they are the reason we managed to do it."
While the Hanbury family has owned and managed the site for 40 years, this year also marks 100 years since it first opened as a fish and chip shop.
During David's ownership, he says very little has changed structurally, although the decor, the menu and standards have advanced in that time.
"It's basically the same shop as the one we bought, the range is still in the same place, but we've updated it and modernised it over the years," he says.
"The standards are so much better than they were 40 years ago. Having said that, we were ahead of our time even back then. We had an electric range with controllers on by 1987, I think the first range with controllers was only introduced in 1980. That's why we came second in the 1980 Fish & Chip Awards, because we were way ahead of everyone else, and we've maintained that.
"We've got a £60,000 Kiremko range from KFE that has all the latest technology, including touchscreen controls, so we've kept up standards over the years."
David says he is proud of the business he has created, even if it is harder to run now, with labour costs and food costs increasing.
"Fish and chips were measured in pence those days, not pounds and yet we made so much more money!" he says.
"Obviously, the last two years have been a big shock, but we've adapted, we've embraced click and collect and click and delivery and we have a very good business."