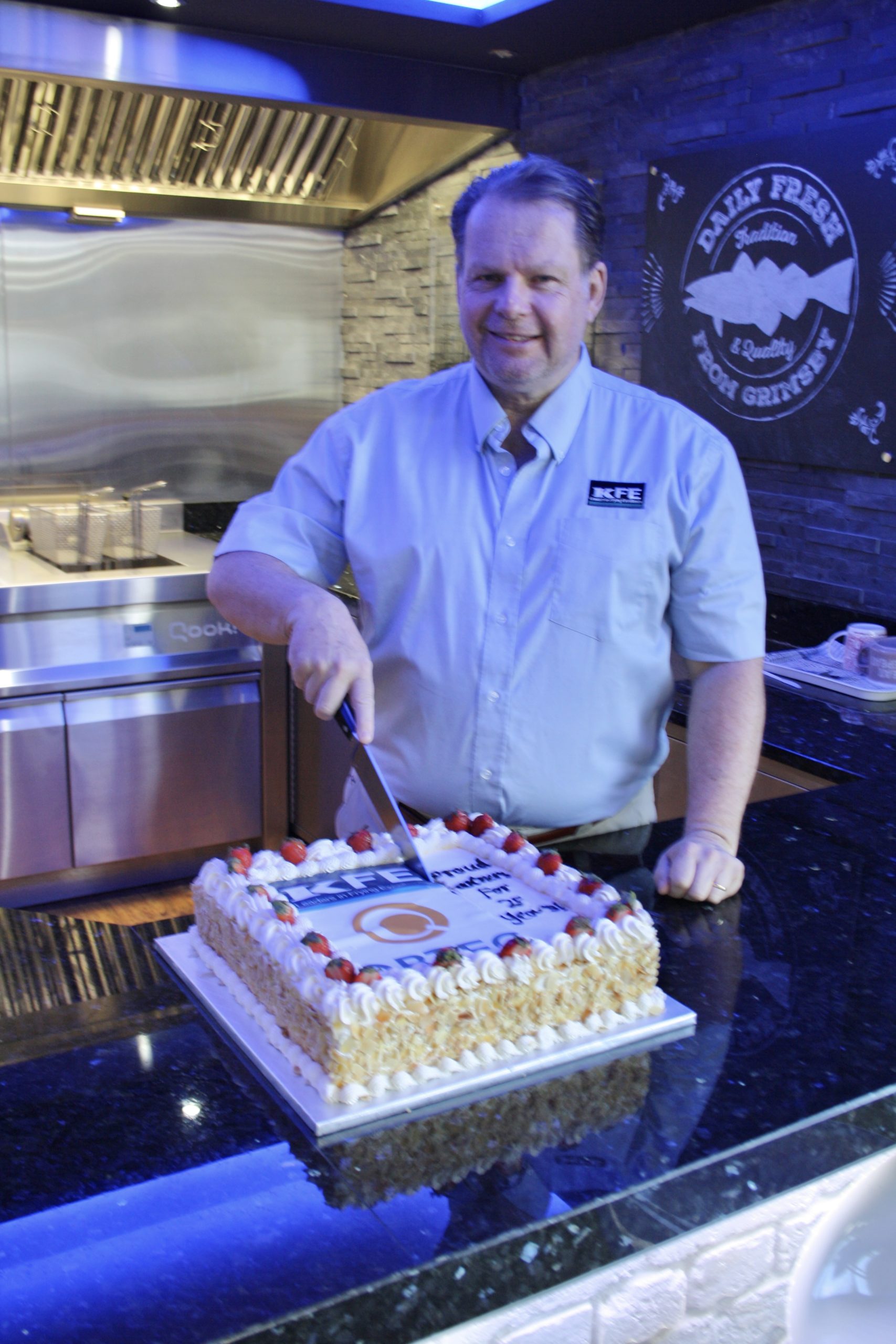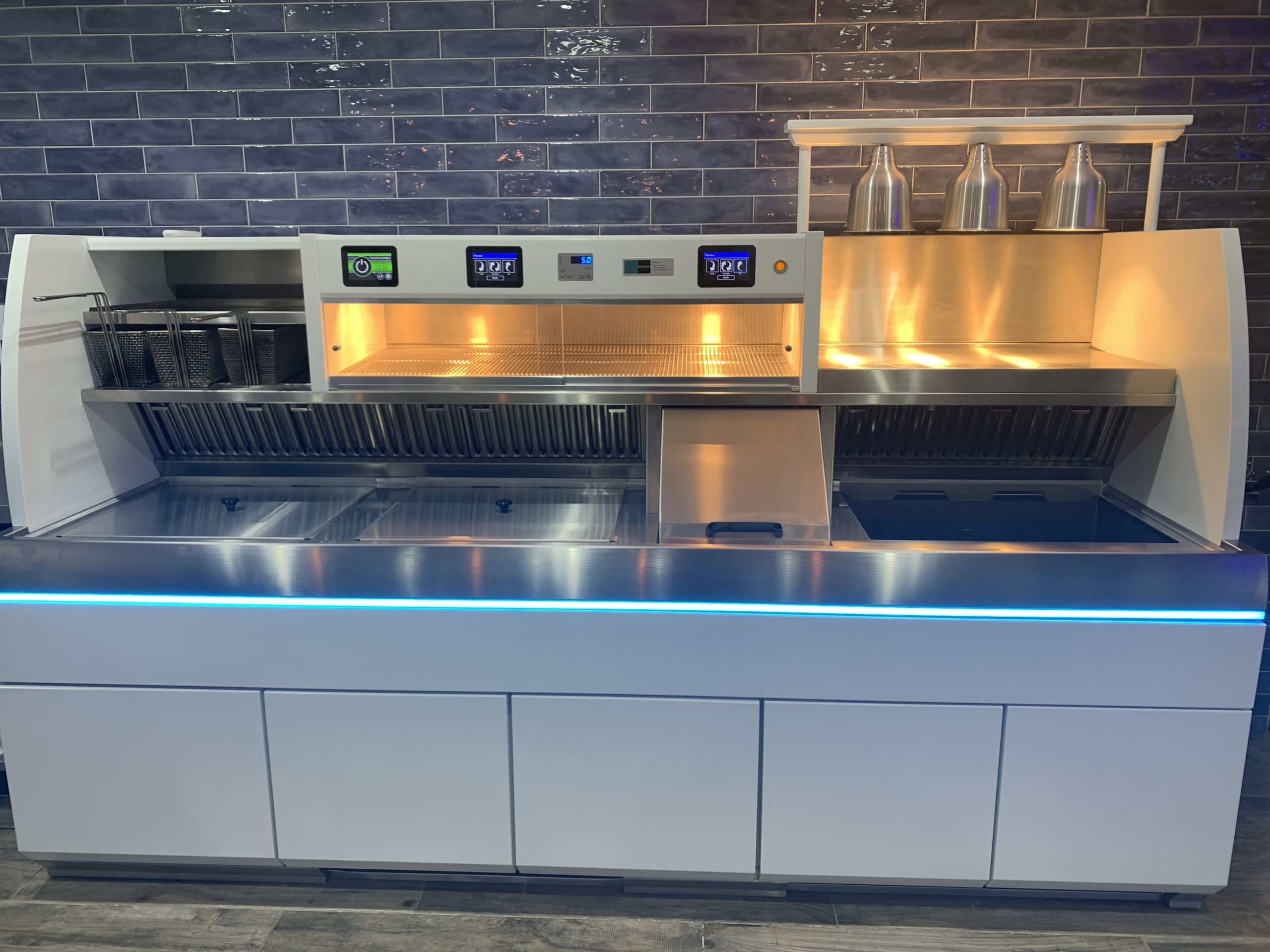 KFE, the leading manufacturer of Dutch frying ranges to the UK fish and chip shop market, is celebrating its 25th anniversary. 
Paul Williams started the company back in April 1996 and was joined a few months later by Bill Shaw, who became his business partner in selling ranges manufactured by QBTEC, Holland. They expanded the UK range sales of Kiremko over the next 12 years before Bill sold his shares in 2008, eventually leaving the business in 2014.
Paul pushed forwards and started the service division, moved to new showroom premises and launched The KFE School of Frying Excellence. KFE now employs over 30 staff, including Paul's son Nikki Williams, daughter Tanya Henderson, and son-in-law Mathew Henderson. It also boasts a UK-wide service department, a six-strong sales force and a state-of-the-art training school featuring a multitude of award-winning trainers.
The anniversary follows a challenging year for the fish and chip industry in which the Covid pandemic forced takeaways to switch to click and collect and delivery services, and many restaurants to operate as takeaways.
Paul comments: "It's been a tough year but a very busy one all the same. Our focus has been upholding our commitments to manufacturing and installing those ranges that were already on order before the pandemic, as well as assisting customers with upgrades, supporting new customers, offering advice and doing everything we could to keep shops operating within the Government guidelines."
Over the past 25 years, KFE has pioneered many innovations which have helped fish and chip shops improve efficiency, consistency and profitability. For example, KFE introduced the concept of basket frying and high efficiency, resulting in quicker frying times, a higher quality product, better portion control and lower gas consumption. More recently this has included developments in pan technology and filtration as well as the introduction of touch screen controls, grills, powder coating and a 10-year pan warranty.
Paul adds: "One of the next developments for us will be the ability to monitor and manage the performance of our ranges and diagnose problems remotely via the internet. I think it's a few years away for the UK, but it's already being tested in Holland."
As well as focusing on innovation, KFE has always invested heavily back into the business, proving a key factor in its growth. Paul comments: "I strongly believe we are the best range company in the UK, but to continue being the best you need to constantly invest back into the business. That is why we added a service division in 2007, it is why we have gradually expanded the sales team over the years and it's why we opened the training school in 2010. Now we not only sell and install frying ranges, but we can train newcomers, we can introduce customers to suppliers and to other operators in the industry, and we can look after them with an unrivalled level of after-sales service. It's a complete package that no one else can offer."
Growing rapidly
The business has come a long way since its first two customers, Tony McDermott of McDermott's in Croydon, south London, and the Long brothers in Verwood, Dorset. Cox's of Letchworth and the Harry Ramsden's chain were just two of the many businesses that followed in their footsteps, recognising the benefits of Dutch frying ranges in the late '90s.
Since then, KFE has grown tremendously year-on-year, retaining loyal restaurant and takeaway customers while constantly attracting new ones. Most recently these include the award-winning Port & Starboard in Cornwall and exciting new projects with top chefs Lenny Carr-Roberts and Tom Kerridge.
Maintaining relationships with its customers has always been at the heart of the KFE business, something Paul enjoys because he says "there are so many great people in this industry".
He adds: "Having that close relationship, not just with our customers and suppliers but also with our manufacturers QBTEC in Holland, means that we are able to share our expertise, listen to our customers' needs and develop solutions that help to move the market forwards.
"I like to think we are facilitators, recognising a customer's problem but being able to help them through our industry contacts. The fact that we've put so much focus on customer service is also reflected in the size of our sales team because we want our guys out there in shops, visiting customers and developing those long-term relationships."
If ever there was a time that demonstrates the benefit of relationships built over years it's this year when, due to Covid restrictions, the sales team have been unable to visit shops.
Paul adds: "We've had so many existing customers come to us and order new ranges because we have that relationship with them, they trust in us and in our equipment. It has proved the core fundamentals of our business are right."
KFE's relationship with its partners at QBTEC in Holland has also developed into a long-standing deep friendship with Gijs and Marejke Okkerman. Paul adds: "In another similarity to ourselves, their children, Dries and Marijne, and son-in-law, Jeroen, have also joined the company, helping to maintain their position as Europe's number one manufacturer of the highest quality frying equipment."
Company's achievements
Commenting on the company's achievements over the last 25 years, Paul says he couldn't be prouder of how far the business has come.
"We're in a totally different position today to when we first started with no leads and no shops to take people to," he adds. "Now we have quality, award-winning shops the length and breadth of the UK and relationships which have developed beyond business to become close friendships.
"My family are involved now too, which in the early years was never part of the plan. It makes me extremely proud to know that they will continue KFE for the next 25 years.
"The fish and chip industry is made up of many family businesses and I think many people can relate to that feeling of excitement, nurturing your children to take a fantastic business to the next level."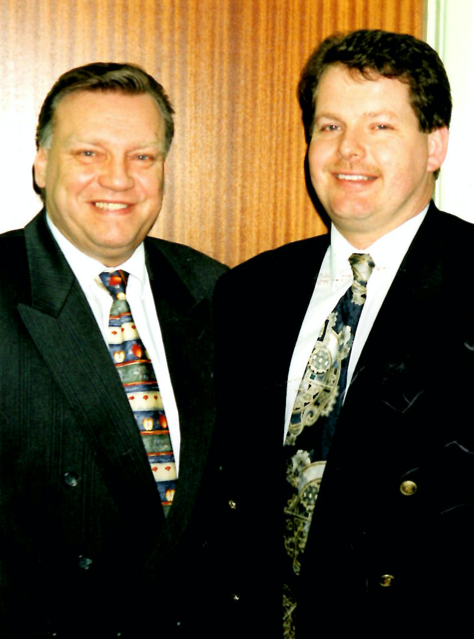 Founders Bill Shaw and Paul Williams, 1996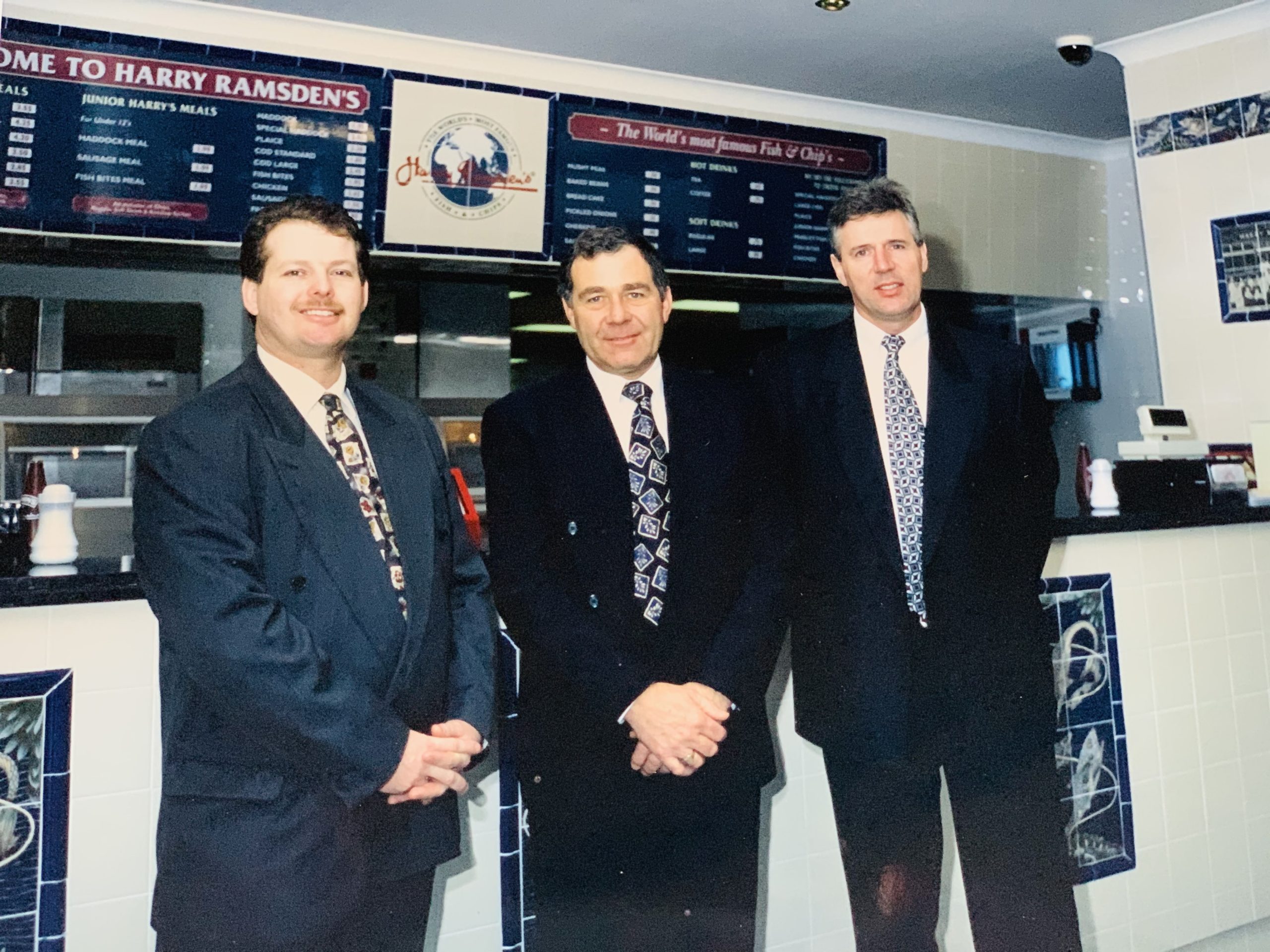 Paul Williams, Bob Radford, operations director of Harry Ramsden's, and Gijs Okkerman, director of QBTEC, 1996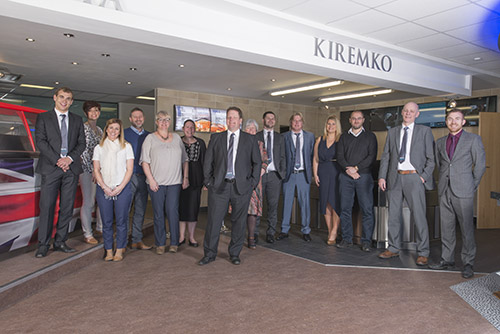 KFE's 25th anniversary coincides with the gradual easing of Covid restrictions in the UK and the company remains hopeful its Dinner Dance can finally take place on Sunday 19th September. Plans are also underway to resume its training program, which includes courses delivered by Fred Capel and Richard Ord Senior among many others.