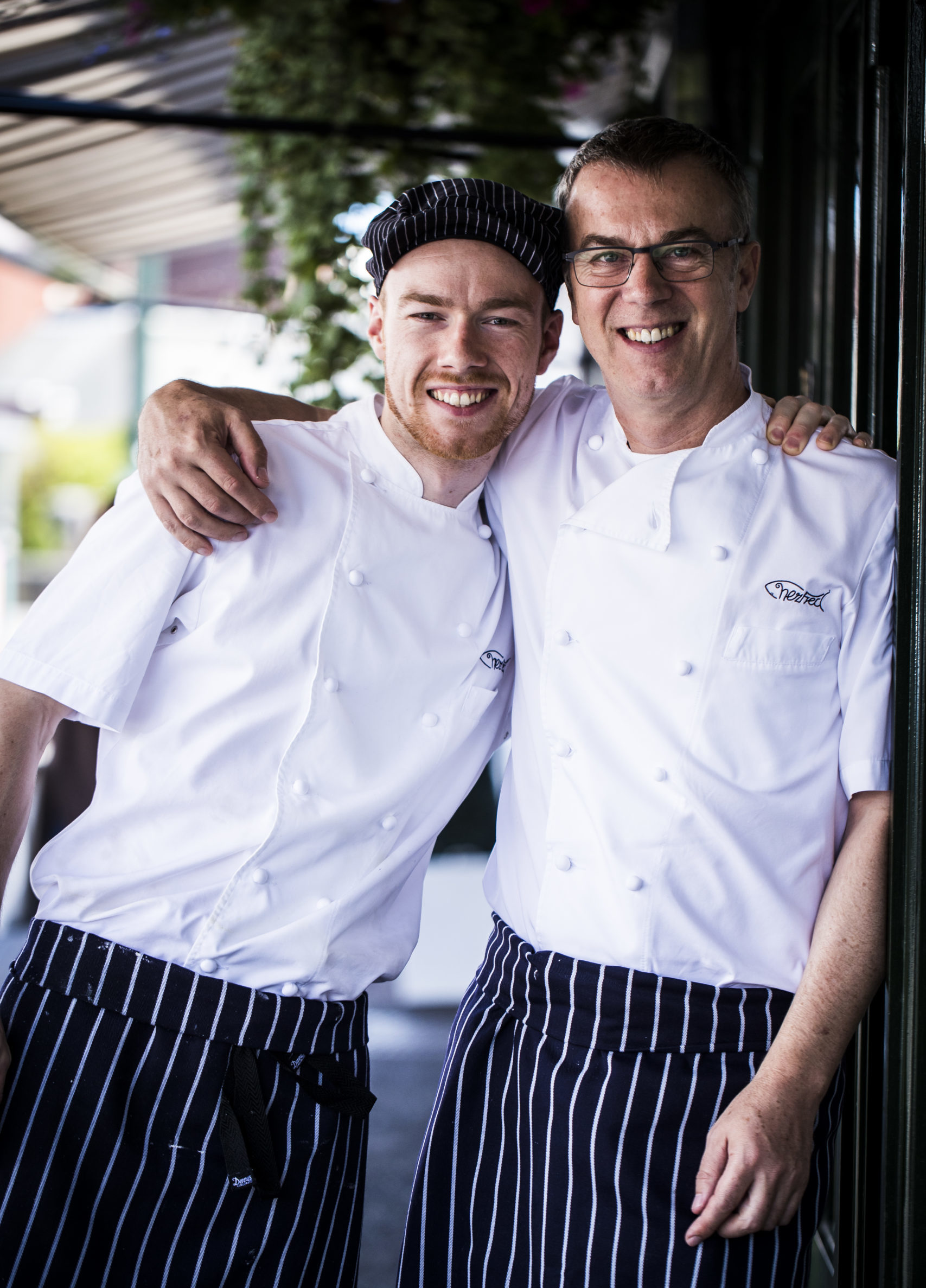 Fred Capel has been a KFE customer for 16 years, buying his first seven pan L-shaped Kiremko frying range in 2005 and replacing it with a nine pan range when he refurbished Chez Fred in Bournemouth five years ago.

Whilst the early attraction to KFE were the advances in technology and innovation it brought to frying ranges, it's the years of reliability and performance Fred's had from his Kiremko since, as well as the service and after-sales care from KFE, that has seen him become a loyal and longstanding customer.
"The metre-wide fish pan is what drew us to KFE initially, it's a great piece of kit, perfect for high volume cooking at busy times," says Fred. "Initially I was skeptical about basket frying for chips, having free-fried for many years, however, I am a complete convert now – more output, more consistency, effectively cooking by numbers, only needing to change the time set with each different batch of potatoes if needed.
"I don't fry as much as I used to but anything I can do to help simplify the frying process for our team is important to me. Our kitchen is open planned, our team are on show and I want the frying process to be as stress-free as possible.
"There will always be a degree of skill involved in cooking great fish and chips but, for me, our Kiremko range has deskilled much of our operation. This has given our team more time to focus on delivering a great product for our customers which, in turn, has helped hugely in achieving consistency in our shop."
It's not just the equipment that Fred has bought into, however. Over the years, he's built a close relationship with the KFE team, which extends from the engineers that installed and service the range, to the staff in the office taking his calls.
He comments: "KFE tends to keep its staff so I've got to know the people really well and they've got to know our site really well. The same guys look after my range that installed it and I like that consistency.
"I've also had the opportunity to meet the team at QBTEC in Holland where Kiremko ranges are manufactured and I think they have developed and grown along with our industry. They've learned from what we like, what we don't like, and built the ranges accordingly. They are always looking to progress with technology, which gives me confidence that there's a future in the product that we're committing to."
Fred is only too aware of the complexities of frying ranges and appreciates there are occasions when friers run into problems, but it's how KFE resolves issues that has meant his confidence has never wavered.
"It's not fair to say that no two ranges are alike, but the reality is that most ranges that come off the production line are different to the one before and, as such, there are quirks and things that can go wrong. I've had problems over the years, it can happen when each range is bespoke, but KFE has always been professional in sorting out any issues."
Contemplating his third range, Fred has confidence in KFE's longevity, adding: "When I look at KFE now, the Williams family are all there and that, to me, says there's a long term succession plan and that they're in it for the long term.
"My family and I are in this for the long term, we still love the business we're in, and if KFE continues to produce the high-quality ranges it's producing and innovating as it has done over the years, we look forward to being a part of that."
Click here to read how KFE helped 2 AA Rosette seafood restaurant Buoy & Oyster in Margate, Kent, open a takeaway in the building downstairs complete with a 5 pan island frying range.