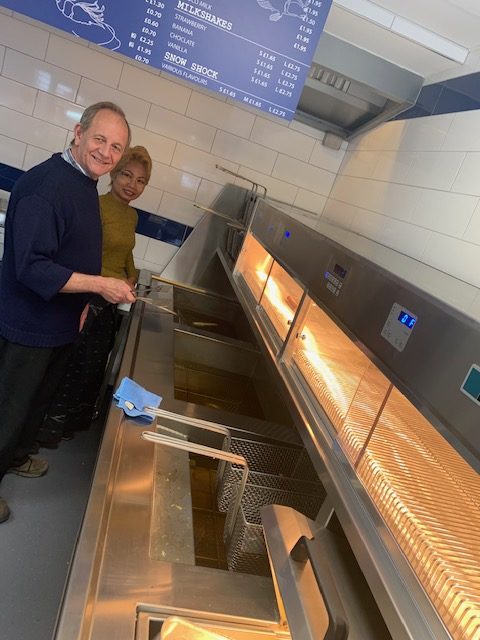 A new three pan Kiremko wall range along with a full refurb has created a Covid-safe environment for Mr Chippy in Southend-on-Sea, Essex.
With its amusements, theme park and beach, not to mention the world's longest pleasure pier stretching for 1.33 miles, Southend-on-Sea is a magnet for tourists, holidaymakers and day-trippers.
Just ten minutes away from the busy seafront is Mr Chippy, a well-kept secret, which has been serving the locals and passing trade for 21 years. Last spring, this traditional chippy closed for a shop fit, completely modernising it and getting it ready for the next 21 years.
Toying with the idea of a refurb for a couple of years, owner Dave Stebbings was unsure how he could increase his cooking capacity and at the same time gain more space in the shop.
After several visits from KFE, it was agreed to swap out the current two pan counter range for a new, three pan, high efficiency Kiremko wall range and reposition it at the back of the shop. Meanwhile, the counter was to be moved forwards by a few feet and replaced with a larger L-shaped version complete with a recess to accommodate a heated cabinet for chickens, ribs and pies.
Within two days of the doors, walls, floors, ceilings and frying range coming out, the country went into lockdown and Dave was left with a pile of rubble and a gaping hole where his old range once stood.
"I couldn't believe it," says Dave. "It was scheduled for the week after but I let the builders start early."
After six long months, Mr Chippy was back serving customers in September. And it's been worth the wait because, although the plans were drawn up before anyone knew about Covid, the new shop is much more suited to operating during a pandemic than the old one.
"The refit has paid off in as much as it's very useable with what's going on at the moment with Covid," Dave says. "There are no tables and chairs for us to worry about any more and the area at the front of shop is ideal for two or three customers to wait in. It's a safer environment for the customer to come into."
By going with KFE's recommendation and moving the counter forward, staff also have more room, which Dave says makes the shop a lot easier and cooler to work in.
Making the shop even more user-friendly is the fact it's now faster to turn out food thanks to the new high efficiency Kiremko frying range.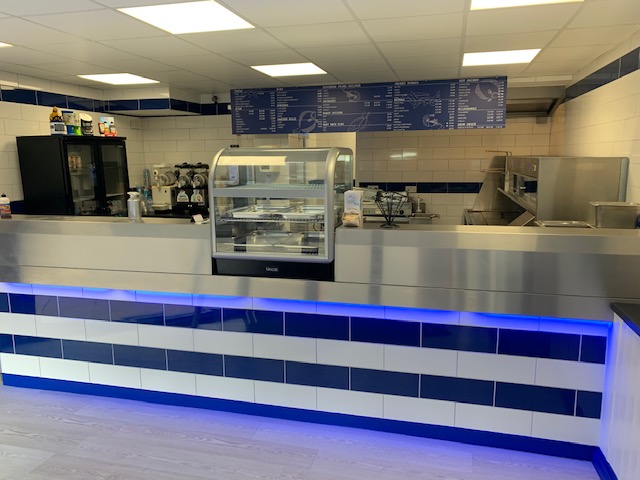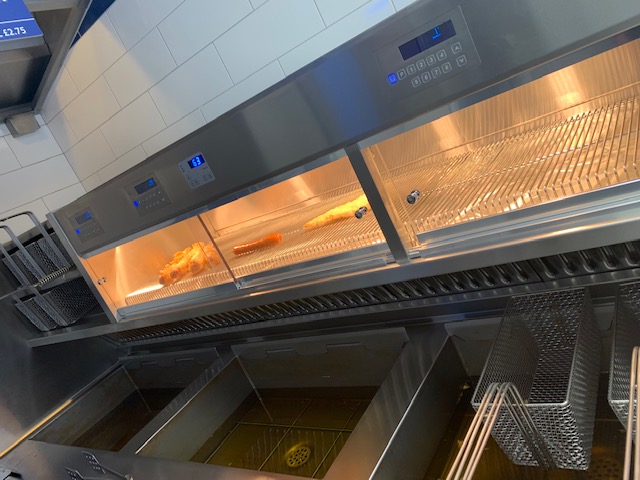 "The new range is a lot more accurate on cooking temperatures so at teatimes we can produce the food quicker and people are only waiting a few minutes," says Dave. "The extra pan also helps us turn the queue round much quicker now."
Featuring built-in filtration, Dave is glad to see the back of his old mobile unit, adding: "We can filter our oil whenever we want and as many times a day as we want to now. It makes the oil a lot cleaner and we're finding we're producing better, more consistent products."
Since reopening in September, Mr Chippy has attracted several new faces including Scottish singer-songwriter Amy Macdonald who used the takeaway as a film location for the video to her recent single Fire.