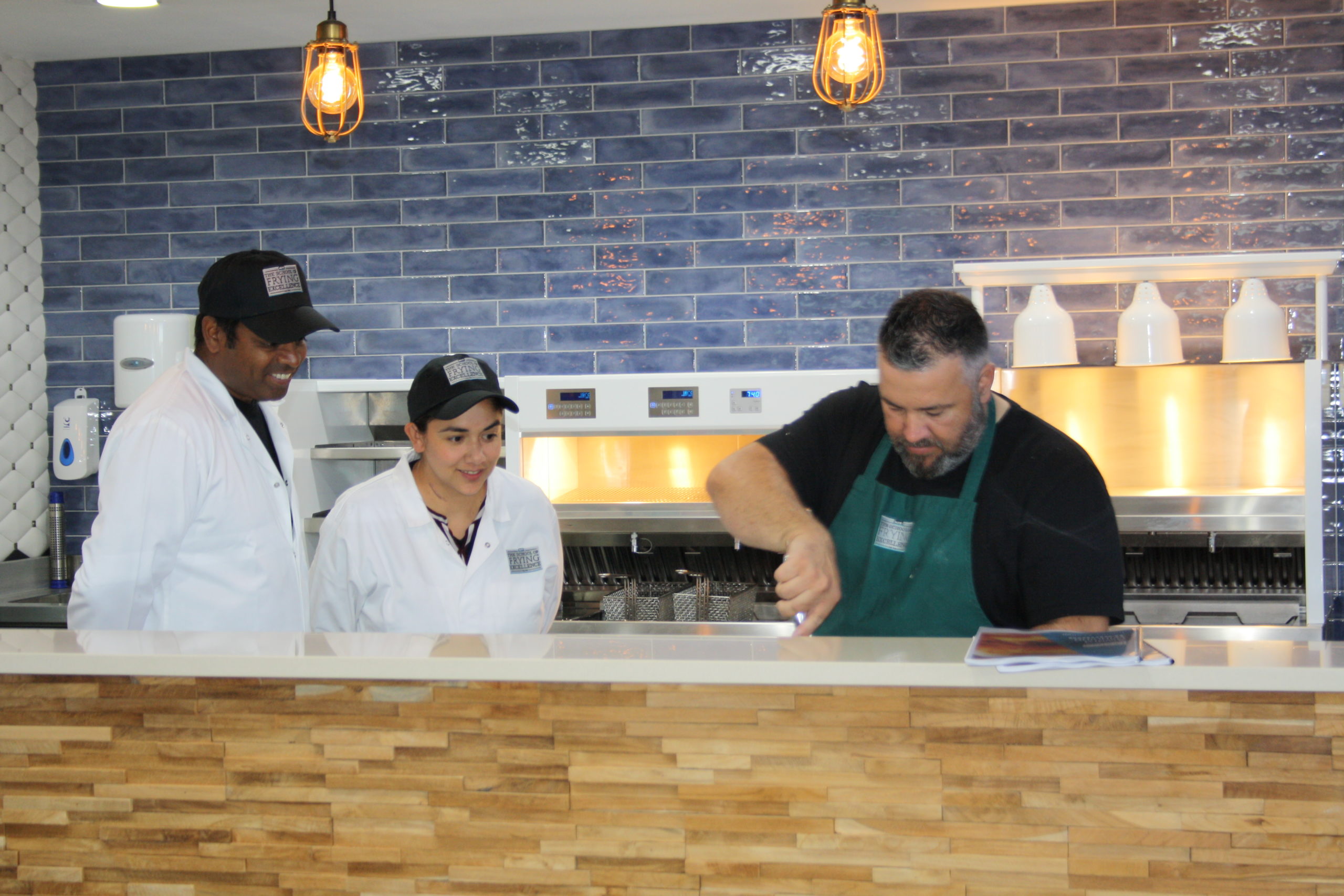 With costs continuing to rise, award-winning frier and KFE School of Frying Excellence trainer Mark Petrou shares his ideas for cooking up low cost, high profit items
Lite-bites – With the price of fish at an all-time high, one of the things I suggest is for shops to take large fish off the menu because a lot of customers will buy a large and split it between two so you're missing out on a sale.
A large 10-12 cod or haddock will cut down in to three or four 3-4oz lite-bite meals. When you add up the sales revenue from four lite-bites, it's considerably more than one large. Plus, there's a bit of a ceiling price on what customers are prepared to pay for a large fish, but with a lite-bite, add a side order and maybe a drink as well and you can charge up to £7.
Fish butty – Another thing I think works well is a fish butty. Again, it's only a light bite but you can really go quite posh with it. If you've got a restaurant, you can do a great fish finger sarnie using a nice crusty loaf with a homemade tartare sauce and some nice leaves – maybe not iceburg lettuce, I'd go for an Endive or Lollo Rosso as they have a bit more colour – and again you're only looking at about 2-3oz of fish but, serve that with half a portion of chips, you're easily over £10.
Platters – If you're already selling things like salt and pepper squid, scampi and prawns, put them together with a couple of haddock goujons, a couple of cod bites in batter, a few dipping sauces – sweet chilli, aioli or tartare sauce – and some chips and that's enough for two people to share and you can charge £16-17. You can also do a portion for one with 2oz of cod, a homemade fish cake, a couple of bits of scampi and half a portion of chips and sell it for £7. It's something different and it's got a great profit margin.
Loaded chips – These are such an easy thing to add to the menu. A personal favourite of mine is chicken curry. Using a curry sauce mix, it's so easy, just add a little bit of coconut milk, some fried onions and garden peas. If you make this up ahead of time and chill it down, whenever you get an order you can simply microwave 7oz of sauce with a few bits of chicken added in for two or three minutes and pour it over the top. Job done. You could do a prawn curry, chilli con carne, cheese and bacon chips and you've turned a half portion of chips into a £6 sale.
For more ideas, why not book on to one of the training courses we hold at our School of Frying Excellence – and bring your team too.

We don't just teach, we like to explain the science behind what we recommend to empower you with the knowledge and confidence to go back to your shop more willing and more able to expand your repertoire. Get in touch now on 01778 380 448 or e-mail sales@kfeltd.co.uk