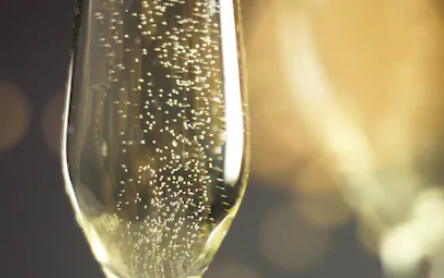 We've teamed up with the experts at specialist wine merchant Hallgarten & Novum Wines to find the perfect match for your fish and chips this Valentine's Day
Despite being in lockdown, 70% of UK adults still intend celebrating Valentine's Day this year, with 21% looking to make more of an effort than usual and 13% thinking they will spend more*.
With takeaways looking the most popular option, why not make your fish and chips that extra bit special this year by adding a bottle of dry, zingy, crisp white wine or fizz?
"Sparkling wine, such as Prosecco, is always a sure-fire success with deep fried foods, particularly those covered in batter," explains Beverly Tabbron MW, wine buyer at Hallgarten & Novum Wines. "The dryness, acidity and the bubbles make it a perfect combination, cutting through the rich batter with ease.
"If you are looking to push the boat out, Champagne makes an ideal partner. Our top recommendations are Bernard Remy, Brut 'Carte Blanche' Champagne and Favola Prosecco – the decadent way to toast your takeaway."
If you are looking for less bubbles, Beverly has chosen two white wines; a delicious fresh aromatic Sauvignon Blanc from New Zealand and a dry, zingy Picpoul de Pinet from the south of France.
"These wines are naturally great pairings for fish and chips, cutting through the richness of the batter and accentuating the succulent flakes of the white fish, whilst also complementing the earthiness of the chips. Not only do they pair well with the essentials, but these white wines will also take tartare sauce and mushy peas to a whole new level!"

Champagne Bernard Remy, Brut 'Carte Blanche' NV – RRP: £28.49
Grape: Pinot Noir 60%, Chardonnay 35%, Pinot Meunier 5%         
Region: Champagne
Awards: Silver Medal, Decanter World Wine Awards; Silver Medal, International Wine & Spirit Championship
Lively and intense with a delicate and persistent mousse, refreshing notes of lime and lemon combine with floral nuances, honey and a touch of mint on the palate. This champagne blossoms with complexity, finesse and an acidity that will help elevate all elements of traditional fish and chips.
Champagne Bernard Remy is situated in the small town of Allemant, nestled on the edge of the Côte des Blancs which is famed for its white grape vineyards. With 11 hectares of vines located throughout the Champagne region, this family-run Champagne House has at its disposal an exceptionally vast range of crus, terroirs and grape varieties, from which they produce fine, elegant and subtle Champagnes.

Prosecco Extra Dry, Favola NV – RRP: £11.99
Grape: Glera 100%
Region: Veneto
A fresh, fragrant and fruit-driven Prosecco with aromas of pear and apple. On the palate it is off-dry and lively with an attractively crisp finish, perfect for cutting through rich batter.
Favola, which means fairytale in Italian, is an enchanting wine, with its stunning presentation, tremendous quality of fruit and competitive price, this stylish wine is set to make an indelible impression on the hearts of wine lovers.

Picpoul de Pinet, Tournée du Sud 2019 – RRP: £11.49
Grape: Picpoul Blanc 100%
Region: Languedoc-Roussillon
A lovely, refreshing Picpoul with aromas of grapefruit, citrus, stone fruits and delicate notes of fresh acacia flowers on the nose. Great concentration on the palate, with a zingy acidity and unusual.
White wine and fish is a classic pairing which works for so many reasons. Hailing from the south of France, the Picpoul Blanc grape is cultivated from a part of the world-renowned for its fish dishes and this wine is made with those dishes in mind.

Sauvignon Blanc, Marlborough, Bishop's Leap 2019 – RRP: £11.49
Grape: Sauvignon Blanc 100%
Region: Marlborough
A full and crisp wine with intense aromas and flavours of passion fruit, underlying gooseberry and herbal tones. Mouth-watering acidity is balanced by a full flavoured palate that leads to a long lingering finish that will help refresh your palate of the chips' saltiness.
Bishop's Leap has been a firm favourite with diners for many years. Made by Megan Simmons, in Marlborough, New Zealand, this classic Sauvignon Blanc punches above its weight in both style and price.
Hallgarten & Novum Wines is one of the UK's leading specialist wine merchants with over 85 years of experience importing wines from producers around the world and supplying the UK on- and off-trade.

For further information on any of the wines featured here, contact Hallgarten & Novum Wineson on 01582 406457 or visit www.hnwines.co.uk
*survey by KAM Media and Toggle.